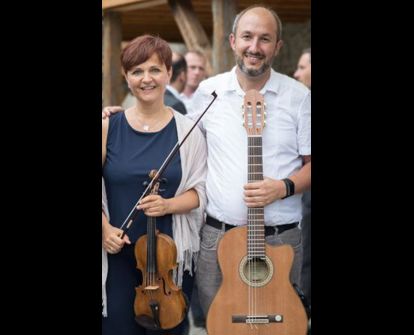 Saitenklang spielt im Sparerhof
Music, a good wine, fresh Irish oysters and a Mediterranean garden: these are the ingredients for a particularly enjoyable evening at the Hotel Sparerhof in Vilpian.

On Friday 15 September the duo "Saitenklang" will be in Vilpian. Karin Knoll-Donà and Rupert Ploner have mastered their instruments, they master violin-piano, masterly and also their voices. Both have studied at the Mozarteum in Salzburg and have gathered together to compose their musical talents. With her classical instruments, she goes on a music journey that is unrivaled. The duo invites you to a journey of Irish folk, Latin American rhythms, tango, modern pop songs and classical music.

An evening that promises to be varied. A pleasure for all senses: for the culinary part the host family offers a fine selection of wines and fresh Irish oysters. The right end for an unforgettable summer 2017.